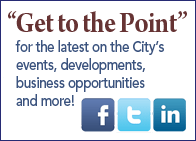 ECONOMIC DEVELOPMENT ADVISORY COMMISSION
The Economic Development Advisory Commission consists of nine regular members. It was formed to advise City Council of future and current conditions of economic development in the City of Somers Point. The primary purpose of the Commission is to market the economic strength of the City, in order to provide stability with our existing businesses while encouraging future development with City limits.
Economic Development Advisory Commission Members: Year 2013
1. Lou DeSciole
2. Bill Hurst
3. Scott Rosen
4. Bob Shore
5. Ron Meischker
6. Laurie Smith
7. Nick Regine
8. Michael Bray
9. Arthur T. Ford, III
Meetings are held the first Wednesday of the month at 5:30 PM at the Somers Point Senior Center.