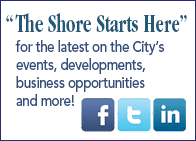 EMS Services provided by
Shore Medical Center
BUREAU OF FIRE PREVENTION AND INSPECTION
City Hall
1 West New Jersey Avenue
Somers Point, NJ 08244
Telephone: 609-927-9088 X-131
Fax: 609-653-6144
Fire Official: Frank Denan
Lead Fire Inspector: Mark Haynie
Fire Inspector: Lee Crossman

The Bureau inspects seven (7) days a week. There is no notice to a business prior to inspection. If entrance is forbidden, the business shall receive an automatic fine of $500.00 for refusing entry to the property.
The Bureau of Fire Prevention and Inspection performs the duties of inspecting every business within the City of Somers Point no less than annually.
The Bureau inspects some businesses four (4) times a year; these businesses include any occupancy of 300 or more persons. Examples of these types of business include Night Clubs, Restaurants, Hospitals, and Nursing Homes.
All Schools within our City are inspected both Public and Private.
On an annual basis the Bureau with the Fire Department participates in an annual Fire Prevention Program with all the City's schools and holds an open house at both Fire Stations.
If you are an owner of a rental property in the City of Somers Point, you must register your property as such with the City Clerk's Office.
You must also obtain an application for a smoke detector, carbon monoxide detector, and fire extinguisher certification prior to anyone moving in. These applications may be picked up at the City Clerk's Office or can be faxed to you.
The fee for this certification is $20.00. It is unlawful to allow a tenant to occupy any rental unit until your property has a valid certification.
Should you have any questions and/or comments, please call the Bureau of Fire Inspections and Prevention at 609-927-9088 X-131.