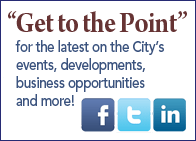 TAX / SEWER COLLECTION
City Hall
1 West New Jersey Avenue
Somers Point, NJ 08244
Telephone: 609-927-9088 X-141
Fax: 609-926-0536
Office Hours: 9:00am ~ 5:00pm - Monday ~ Friday (Excluding Holidays)
Lisa King, Tax Collector
Emerald Horning, Tax Clerk
Donna Heiler, Tax Clerk
Tax Collection
Taxes are due on the following dates:
February 1st
May 1st
August 1st
November 1st
There is a grace period of 10 days on tax payments. If the 10th day falls on a weekend or holiday, that period is extended to the first working day after the 10th day of the month. Interest on unpaid taxes is calculated on a daily basis.
Sewer Billing
Beginning in 2014 the City of Somers Point will be billing for sewer service on a semi-annual basis as opposed to the previous quarterly
billing cycle. The bills will be mailed to your billing address by early February and will be due March 1st and September 1st.
Sewer Utility payments are due on the following dates:
March 1st
September 1st
The semiannual amount due in 2014 will be $185 for each domestic billing unit. Your individual bill will indicate the correct amount due for your
property. As in the past, the City will allow for a 30 day grace period from the due date of the sewer bill for payment to be received.